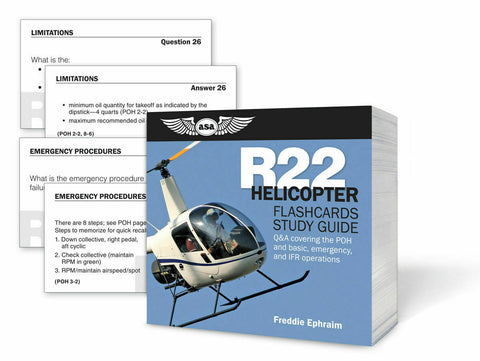 ASA, Robinson R22 Helicopter Flashcards & Study Guide, p/n ASA-CARDS-R22
ASA's new R22 Helicopter Flashcards Study Guide is a must have for any pilot in command of the R22 Robinson Helicopter. Designed to facilitate memorization and deepen understanding of safe and effective helicopter operations, these flashcards help both civilian and military pilots master the aircraft. They're not only useful to pilots preparing for their checkride, but also instructors looking for a thorough review to ensure currency and increase safety.
Nearly 400 flashcards that are based on Sections 1-8 of the R22 POH. Topics include general information about the aircraft, as well as it's limitations, normal and emergency procedures, performance, weight and balance, maintenance, helicopter-specific IFR rules and regulations.  Also, a section with special emphasis on the R22 systems. 
Each card is labeled according to the chapter in the POH from which the question was derived.  On one side of the card is the question, and the flip side provides the answer.  Questions reflect the information pertinent to safe operations in the Robinson R22 Helicopter.  The answers include references to specific material useful for further study: 
POH - Robinson R22 Pilot's Operating Handbook
AIM - Aeronautical Information Manual
FAR - Federal Aviation Regulations
IPH - Instrument Procedures Handbook (FAA-H-8261-1)
This item qualifies for FREE DOMESTIC SHIPPING with tracking number
---
We Also Recommend