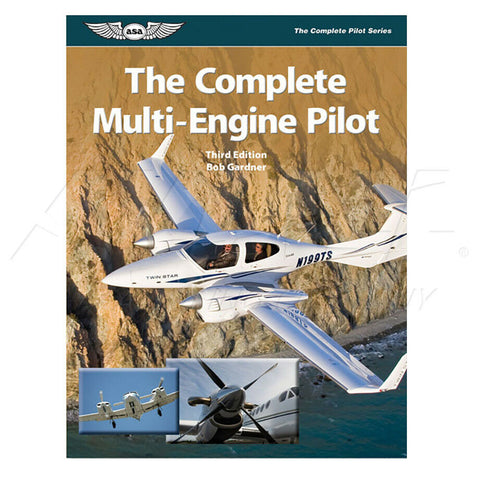 ASA, The Complete Multi Engine Pilot Book, p/n ASA-MPT-3
From

ASA

, the best textbook available for learning multi-engine flying! Learn the fundamentals of flying multi-engine aircraft and aerodynamic laws that govern multi-engine flight under Bob Gardner's experienced and energetic tutoring. "By following Bob Gardner's sage and enlightening advice... the challenging task of becoming a proficient and knowledgeable multi-engine pilot will become easier and more understandable." (from the Foreword by Barry Schiff). 
Applicable to both U.S. and international multi-engine training programs, this textbook provides all the information needed to earn a multi-engine rating, covering the aeronautical knowledge and the skill required, as well as checking out in a new twin. Review questions conclude each chapter, and appendices provide a syllabus for an integrated flight/ground training program, a written exam for use when checking out in a new twin, and reprints of applicable FAA advisory circulars and source material for further study on all aspects of multi-engine training.
This item qualifies for FREE DOMESTIC SHIPPING with tracking number
---
We Also Recommend