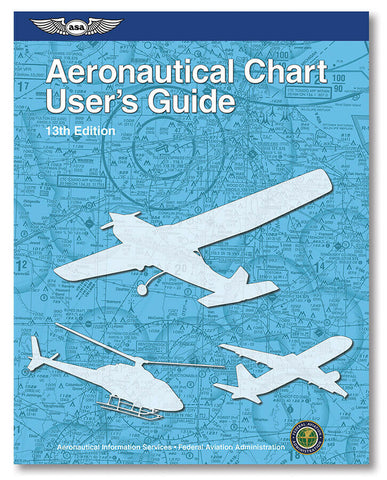 ASA, Aeronautical Chart User's Guide, FAA AeroNav, p/n ASA-CUG-13
ASA has built a reputation for providing the aviation community with the most accurate and reliable products available.
Go beyond the standard chart legends and learn the meaning behind all of the symbols found on aeronautical charts.
The FAA publishes aeronautical charts for each stage of VFR (visual flight rules) and IFR (instrument flight rules) flight including training, planning, departure, enroute (low and high altitude), approach, and taxiing. This guide is an excellent reference book for novice and experienced pilots alike, as well as for international pilots as a means of becoming familiar with U.S. charts. The updated 13th Edition of the Aeronautical Chart User's Guide by the FAA AeroNav Products branch is the definitive learning aid, reference document, and introduction to the weath of information provided on aeronautical charts and in chart navigation publications. 
This FAA publication includes explanations of all symbology used on the FAA charts including the world aeronautical charts, sectional aeronautical, terminal area, flyway planning, helicopter route, enroute low- and high-altitude, area, and oceanic route charts, as well as standard terminal arrival routes, standard instrument departures, and instrument approach procedures. The chart legends and airspace classifications tables are included. Illustrated throughout with full-color graphics.
This item qualifies for

FREE DOMESTIC SHIPPING

with tracking number
---
We Also Recommend