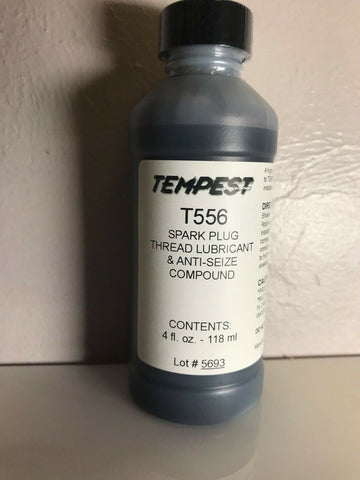 Tempest, Spark Plug Thread Lubricant & Anti Seize Compound, 4 Oz., p/n T556
Various forms of spark plug thread lube anti-seize have been around for years, but many experience the same application problem: they ball up and are very difficult to spread evenly across the threads. Tempest T556 formulated spark plug thread lube anti-seize.
Tempest T556 comes packaged with a brush that applies the lubricant to the threads with a smooth even flow, doesn't drip, and more importantly, won't inadvertently run down on the firing end of the spark plug potentially causing an environment conducive to fouling or even pre-ignition. It stays where you put it and covers like a blanket on the first pass.
This item qualifies for FREE DOMESTIC SHIPPING with tracking number

---
We Also Recommend