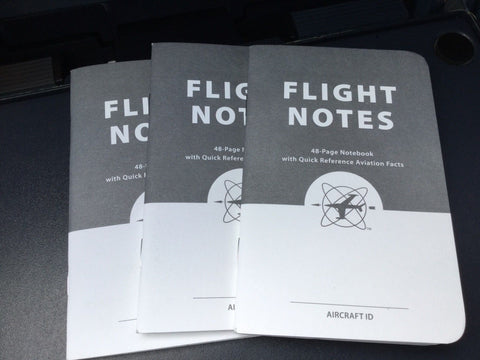 ASA, Flight Notes, Aviators Quick Reference Pocket Pad, 3 Pack, p/n ASA-FLT-NOTES
Flight Notes from ASA, make great pocket companions for pilots and can be customized for each pilot and/or aircraft. Sold in packs of 3, each 48-page Flight Notes notebook contains quick reference aviation facts including lists, tables, and graphs that are handy during preflight planning or while enroute. The remaining graph paper style pages can be filled with any flight notes an aviator might want to include about the aircraft or any of its journeys. 
In addition to serving as a quick reference notebook for aviators, Flight Notes are also an ideal gift for armchair fliers, aviation enthusiasts, and new students. An aircraft identification page at the front of each booklet can be personalized by filling in the aircraft type and number as well as pilot and/or operator information. An aircraft data table provides a place to record the aircraft's V-speeds and weight and balance information.
The following lists, tables, and graphs are included:
Common radio frequencies and transponder codes

Light gun signals

Sample flight plan form

Aircraft equipment codes

Phonetic alphabet

Aviation mnemonics (memory aids)

How to file a PIREP

METAR descriptors and weather phenomena

VFR and IFR cruising altitude diagrams

Density altitude table

Crosswind component table

Equations for magnetic course, and magnetic and compass headings.

Package of 3 

 
This item qualifies for

FREE DOMESTIC SHIPPING

with tracking number
---
We Also Recommend